Carlos J. Rodríguez-Feo, DDS, PA
Oral and Maxillofacial Surgery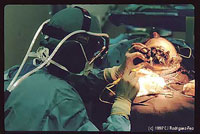 Welcome to the online home of Carlos J. Rodríguez-Feo, DDS, PA.
Important Information Regarding
2019 Novel Coronavirus (COVID-19)
The safety and well-being of our patients continues to be our primary concern. Our office will remain open and we will continue to see patients for as long as it is recommended and legal to do so.
In an effort to support national efforts to fight the COVID- 19 pandemic, our practice is following steps to help assure your health and well-being and that of our community. Your health, and the health of our dedicated staff, matters to us and we are following directives from the Centers for Disease Control and Prevention (CDC) as a way to limit patient and staff exposure to this virus.
However, it has been recommended and we are legally required to concentrate on emergency and urgent care and procedures only (for example, pain, bleeding, infection, swelling, trauma, lesions) during this declared emergency period. By continuing to see these patients, it is also our intention to help prevent unnecessary referrals to local hospital emergency departments during this time of crisis.
What is oral and maxillofacial surgery?
It is the specialty that encompasses the surgical correction of problems of the mouth, jaws, facial structures and neck. This may involve removing teeth, placement of implants, correcting the jaws, removing tumors and reconstruction, treating infections, reconstructive surgery of the face after accidents, or TMJ surgery. Our specialty also provides anesthesia in the office for surgeries done outside the hospital.
Contact:
Phone: (305) 665-3721
Fax: (305) 665-3602
E-Mail: jawsurgery@bellsouth.net
Google Plus:
Carlos J. Rodríguez-Feo, DDS, PA
Oral and Maxillofacial Surgery
6601 Southwest 80th Street
Suite 125
Miami, FL 33143-4661