Carlos J. Rodríguez-Feo, DDS, PA
Oral and Maxillofacial Surgery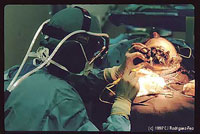 Welcome to the online home of Carlos J. Rodríguez-Feo, DDS, PA.
What is oral and maxillofacial surgery?
It is the specialty that encompasses the surgical correction of problems of the mouth, jaws, facial structures and neck. This may involve removing teeth, placement of implants, correcting the jaws, removing tumors and reconstruction, treating infections, reconstructive surgery of the face after accidents, or TMJ surgery. Our specialty also provides anesthesia in the office for surgeries done outside the hospital.
Contact:
Phone: 305-665-3721
Fax: 305-6653602
E-Mail: jawsurgery@bellsouth.net
Google Plus:
Carlos J. Rodríguez-Feo, DDS, PA
Oral and Maxillofacial Surgery
6601 Southwest 80th Street
Suite 125
Miami, FL 33143-4661